Playground of the Year 2019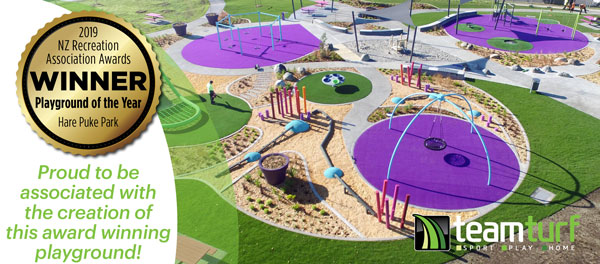 Teamturf are extremely proud to be the exclusive surfacing supplier for the Hare Puke Playground, recently awarded playground of the year at the NZ Recreation Association awards evening. Working closely with head contractor Fluhler contracting, landscape architect Bespoke Architects and equipment supplier Playground People, teamturf were involved in initial design elements and a few 'practical tweaks' during construction to deliver this fantastic destination play space.
The installation used a combination of purple Coolplay and green Ivory Spine synthetic turf installed over our Proplay shockpad. All of the areas are cut into circular shapes creating a fantastic aerial photo showing off all the different areas of the Hamilton City Councils latest destination playground. A huge thank you to everyone involved in delivering this project.