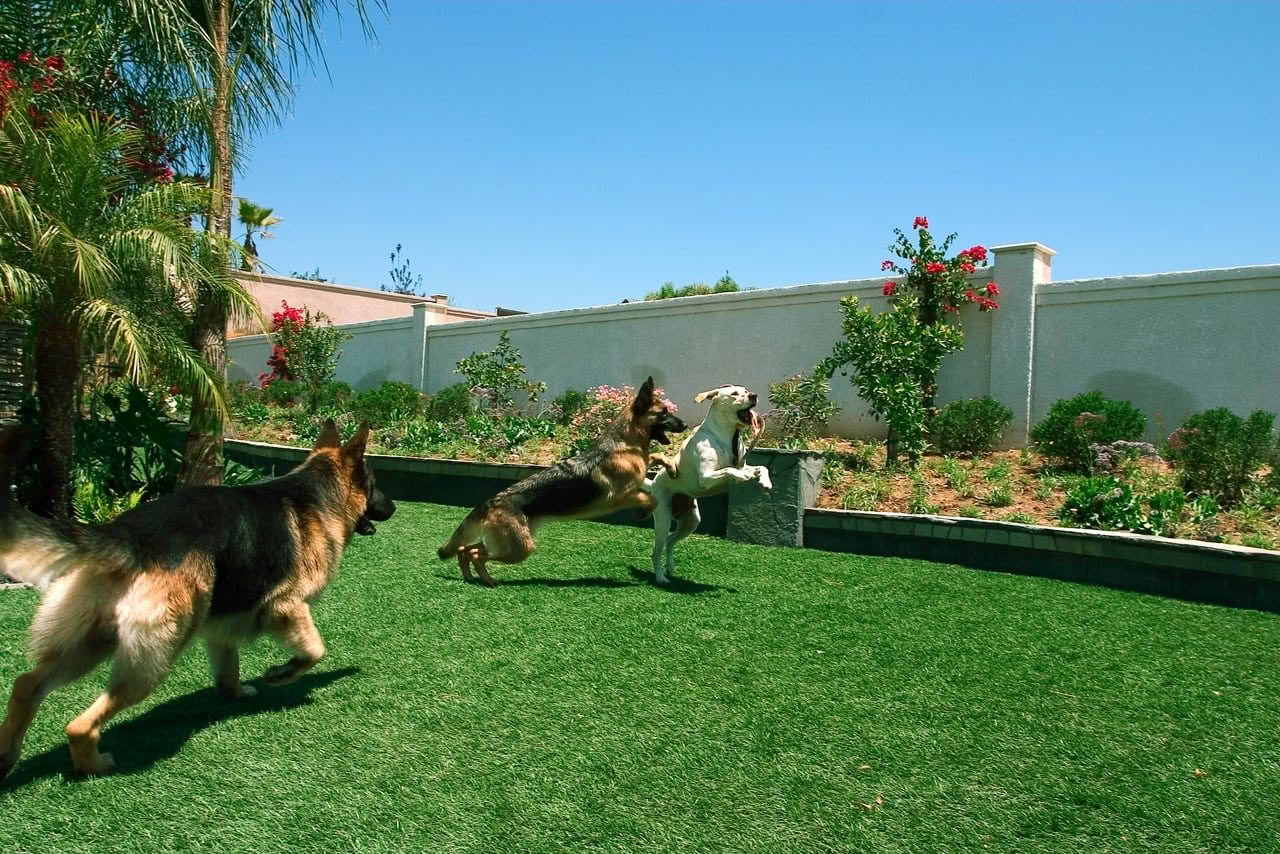 Is Teamturf landscaping grass suitable for dogs?
Yes of course! Our landscaping turf is great for dogs, big and small.

We always get asked the question, will the turf smell during the summer when the dog pees on the lawn? In 12 years we've never had a client complain about their artificial turf smelling. Worst case scenario, if we're having a really dry summer get the hose or sprinkler out and give the lawn a good hose down and wash it through, this will naturally occur during the winter months with regular rain. Dogs love lying on the turf in the sun, it retains some heat and will keep them warm. If you have a digging dog….you'll never have to come home from work and fill in the holes again! I have a teamturf lawn in my backyard and my front yard is still natural turf, our dog will choose the synthetic turf every day over the wet, damp and sometimes muddy natural turf! Small pieces of artificial lawn are also great for dog runs or on the deck of the apartment if you don't have a yard. One last tip…….. get a piece cut as a boot liner for your car if you regularly take the dog out for special trip- great during winter months as you can roll it up and shake it out if they're wet and muddy on the way home!
Phil's Turf Talk – Can dogs go on artificial turf

One of our most commonly asked questions is whether artificial turf is suitable for dogs and what happens when they need to do their business. In this months episode of "Phil's Turf Talk", our Managing Director Phil Lewis will explain why our turf is perfect for your pets. This is what one of our clients had to say about the matter."I can honestly say converting our natural lawn to artificial turf has been one of the best decisions we have ever made. What was once a wet, muddy, dying lawn that was not used by the children or our dog, is now a usable, dry area (even after heavy rain) that both the dogs and kids are loving. It feels like we have added another room to our home. Picking up after our large dog is now so much easier and cleaner. Thank you Teamturf for a job well done". Brett, Mairangi Bay, Auckland

Posted by Teamturf on Monday, 29 October 2018