About Our Home 
Landscaping Turf
The last five years has seen a move towards synthetic turf being used in commercial and home applications throughout the country. The continued development in synthetic yarn technology is now producing a realistic, natural turf alternative for the landscape market in NZ.
An all weather, mud free backyard provides endless hours of usage for kids and pets throughout summer and winter. This low maintenance solution is ideal for small, shady areas on the south side of the house through to full section installations covering the main living areas off decks and pools.
With Teamturf landscaping grass you can add value to your home by turning wet or dry areas into natural looking designer lawns without the hassle.
Teamturf have an extensive range of synthetic lawn surfaces to meet your needs, from harder wearing alternatives for those very active kids, to the finer fibres with great visual appearance that can be used in low traffic areas.
Teamturf has a surface that will look great all year round, while allowing you to enjoy the weekends with your family!
Free up your weekends
No watering
No fertiliser
No mowing
No mud
No weeds
No allergies
Always dry
Always usable
Looks perfect 24/7
8 year manufacturers warranty
Home Landscaping 
Products
Turf Fresh – Artificial grass odour neutraliser
Our 2.5 litre Turf Fresh was developed to minimise odour-causing bacteria on artificial grass. It attaches to the end of your hose and sprays directly onto your artificial grass lawn,  giving your turf the smell of a freshly cut lawn! Our 2.5litre bottle will refresh an area up to 500sqm. Non toxic and pet friendly.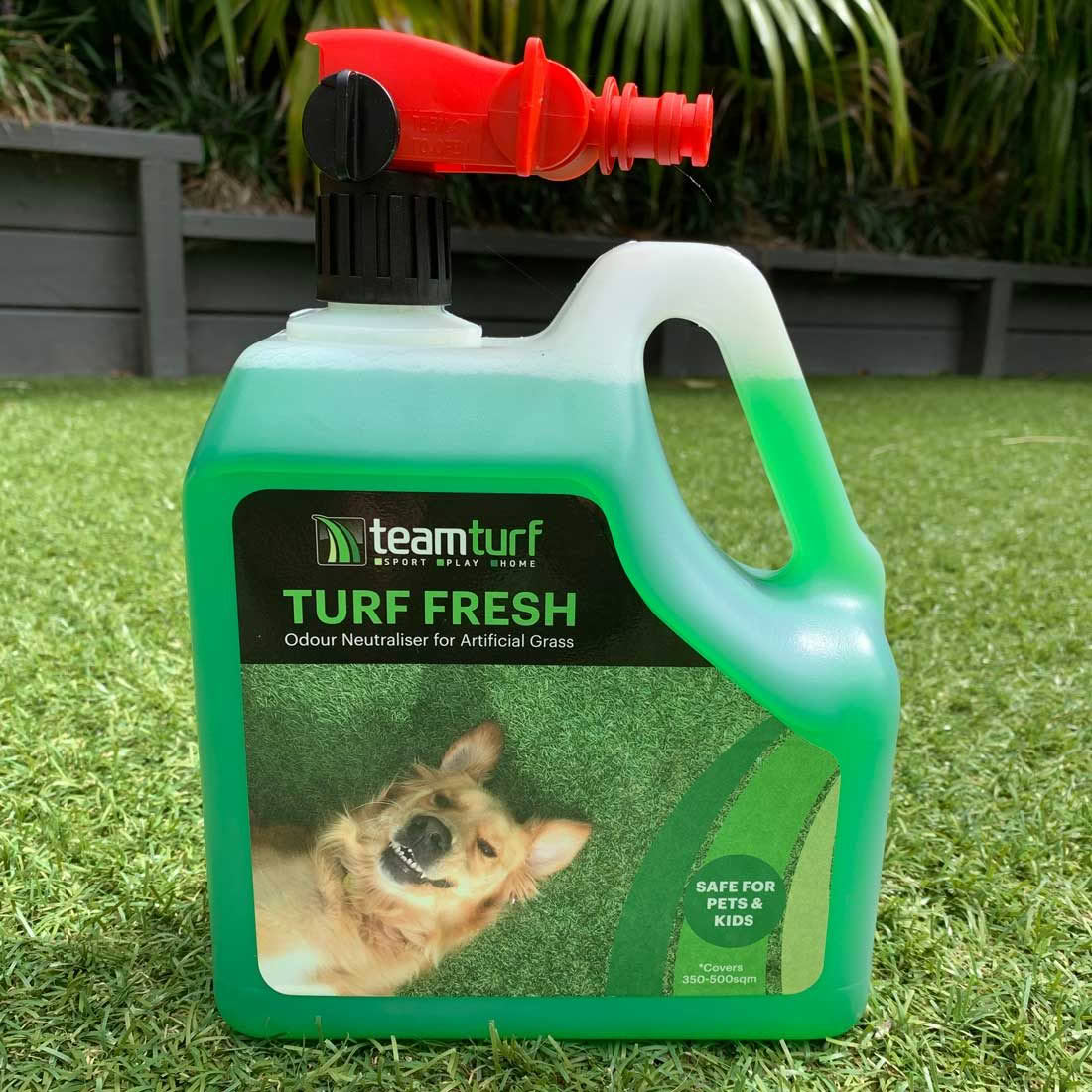 Turf underlay
Our 10mm landscaping pad underlay comes in rolls 1.5m wide x 50m long. It is not an essential element to use under your artificial grass landscaping project, but it does provide that extra-soft-feel underfoot, especially if you have children or play equipment on your lawn. It is also beneficial if installing the grass over pavers, decks or concrete areas.
Home Landscaping 
Projects
Absolutely amazing experience working with Teamturf. Easy to deal with, professional and a very hardworking installation team! I spent 4-5 months searching for the most realistic looking artificial possible (I rejected at least 15 samples from various suppliers) and I found the perfect product exclusively from Teamturf, Esteem 40! It is by far the most realistic product I've ever seen, and very well priced. We had approx 70m² installed (2 months ago) and every single person that sees it comments on how good it looks and feels. We have picnic dinners on the lawn every other night… we treat it like an extension of our lounge. Absolutely a great product decision!
C Walls
Auckland
The Landscape Turf 
Laying Process
This time-lapse video gives you an idea about the preparation and laying process involved when installing a teamturf artificial grass in your residential or commercial property.
Our skilled team with specialised turf laying machinery can take care of the entire installation process for you.
DIY Turf Laying 
Step by Step
DIY STEP 1
How to prepare the soil and importance of geocloth when installing artificial turf
DIY STEP 2
What sort of edging is required when installing artificial turf
DIY STEP 3
What depth and size of basecourse to use when installing artificial turf
DIY STEP 4
How to roll out and join the artificial grass together
DIY STEP 5
How to apply sand into artificial turf
(slide the divider left & right to view before/after images)